Ok, I made my first Publix trip of this year. Wasn't expecting much since a vast majority of coupons expired on the 31st of December, I don't have my printer up and running yet, and without printables there just weren't many sales that were compatible for my family. Yet I did manage to do pretty good on what I bought.
First I know that you're probably looking at my photo of food bought and saying WHAT!?! at the amount of croutons I bought, but I can assure you they won't go to waste. My kids like a handful or so as a small snack, so when I find them on sale I buy as many as possible. Also, my kids and husband are Peanut Butter fanatics, and that peanut butter might last a month if I'm lucky... seriously! So here' the breakdown of what I got today. The (D) means that the coupon was doubled by the store.
10- New York Texas Toast Croutons - sale .99 : coupon .50/1 (D) : Final Price: FREE!
01- Crest Baking Soda/Peroxide Toothpaste - Sale 1.50 : coupon $1/1 : Final price .50
03- Ore Ida Hash Browns *3 dif kinds* - Not on sale 3.25 : Coupons $2/1 Target and $1/1 Manuf. : Final price .25 for two of them and 1.25 for one bag (only had 2 manuf. coupons) TOTAL: 1.75 for 3 bags
03- Bags Banguet Chicken (fingers, popcorn, strips) - Sale: 2.75 : Coupons None : Final : 2.75 each.
04- Birds Eye Voila' Frozen Meal - Sale 1.97 : coupon .50/2 (D) : Final 1.47 each
06- Birds Eye Frozen Vegetables (corn and green beans) - Sale .89 - Coupon .50/2 (D) - Final .39 each
08- Peter Pan Peanut Butter - Sale 1.25 : Coupon .50/1 (D) : Final .25
Price before sales and coupons : $88.36
Price after sales and coupons : $23.75!
Sales savings was $32.61
Store Coupons $17.50
Vendor Coupons $14.50
TOTAL savings of 64.61!!!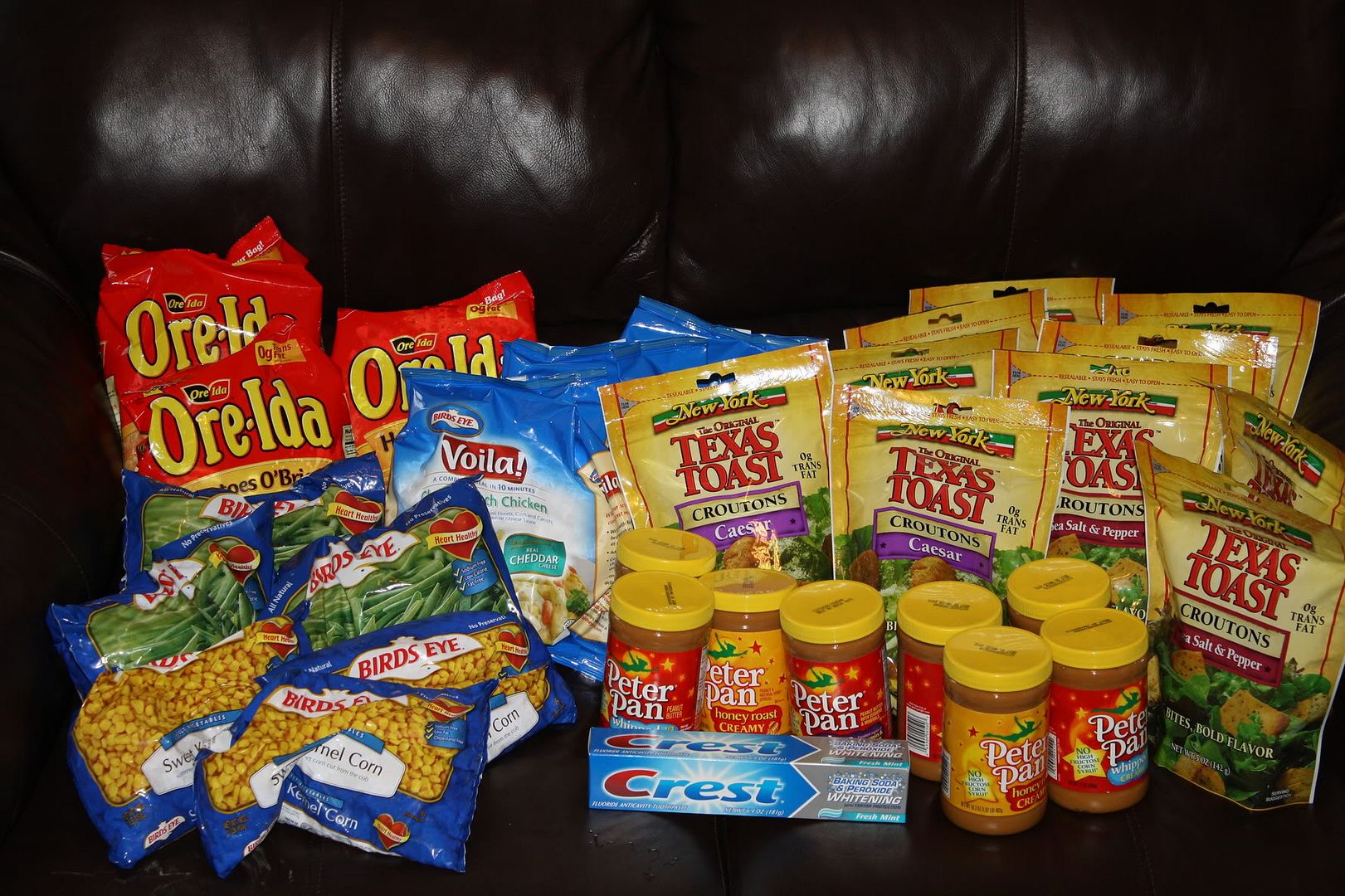 the 3 bags of Banquet Chicken Tenders, popcorn chicken, and nuggets were already put up so they aren't pictured.